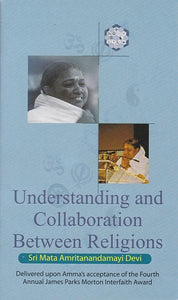 Understanding and Collaboration between Religions (B)
£3.00

£3.00
Tax included.
---
---
On May 2nd 2006, Amma delivered the address "Understanding & Collaboration Between Religions" at the Rubin Museum of Art in the Chelsea District of Manhattan as part of the Interfaith Center of New York's Fourth Annual James Parks Morton Interfaith Award Ceremony.
The Interfaith Center of New York (ICNY) bestowed its 2006 award upon Amma for her outstanding work in fostering "intra-religious understanding and respect". "Amma's life is dedicated to acceptance, and there is no greater acceptance than to be hugged" said the founder of the Rubin museum, Donald Rubin, when he introduced Amma. "By reaching out and accepting all human beings through the physical act of hugging, she transcends all religions and political divisions. The acceptance and the love that the act of hugging creates is the healing that we all need. It is the healing that our mothers gave us when we were infants. It is that healing that Amma has given the world."
The ICNY was particularily impressed with the massive relief work Amma's Ashram undertook following the 2004 Asian tsunami. "When natural calamities occur, people's hearts open up, transcending thoughts of caste, religion and politics", Amma said in her address. Amma also said that a one-word solution for almost all of the problems the world is facing today was "compassion" and stressed the importance for all members of all faiths to serve the poor and suffering. In this booklet you will find the beautiful words of Amma's complete speech on this topic.