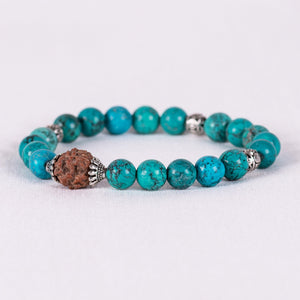 Turquoise Gemstone Bracelet / Wrist Mala
£18.00

£18.00
Tax included.
---
---
"Enlightenment means the ability to recognize oneself in all living creatures."
–Amma
In Sanskrit, 'Mukti' means freedom from the endless cycle of birth and death—a state of enlightenment and bliss. Our beautiful Mukti Gemstone Bracelet is a wonderful reminder of this ultimate goal. The gemstones provide individual radiance and, along with the single Rudraksha bead, unique healing qualities. 
8 mm

 

natural, smooth gemstones

Genuine Panchmukhi/Five-Faced Rudraksha bead

Oxidized metal beads

Strong, latex-free stretch cord

Stretch bracelet style, sized to fit most women's wrists

Handcrafted in India
Due to the nature of gemstones, each bracelet may vary slightly in color, and overall appearance. Such characteristics enhance the unique beauty of each piece. The different gemstone choices and their healing qualities are listed below:
Turquoise -  Purification - Serenity - Protection - Connection with Earth

CARE:  
When putting on a stretch bracelet, do NOT stretch and pull the bracelet to fit over your hand. Instead, slide your fingers into the bracelet, then gently roll it up over your hand to your wrist.

To remove the bracelet, follow the above steps in reverse.

Remove the bracelet before showering, or entering a pool or spa.

Avoid putting perfume where your skin touches the bracelet, as this may discolor the beads.