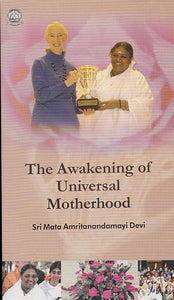 The Awakening of Universal Motherhood (B)
£3.00

£3.00
Tax included.
---
---
Although it might seem by the title Universal Motherhood that Amma is referring only to an audience of women, Amma's powerful address calls to both men and women - challenging all of us to develop our innate power of love and selflessness - the power Amma calls motherhood.
"The essence of motherhood is not restricted to women who have given birth; it is a principle inherent in both women and men. It is an attitude of the mind. It is love -- and that love is the very breath of life. No one would say, 'I will breathe only when I am with my family and friends; I won't breathe in front of my enemies'. Similarly, for those in whom motherhood has awakened, love and compassion for everyone are as much a part of their being as breathing." -- quote from Amma's address.
Given upon her acceptance of the 2002 Gandhi-King Award for Non-Violence, this gem of a booklet will inspire, and possibly stir up, both men and women. Additionally, the booklet contains a moving forward by Swami Amritaswarupananda Puri that documents Amma's mission at that year's Peace Initiative.