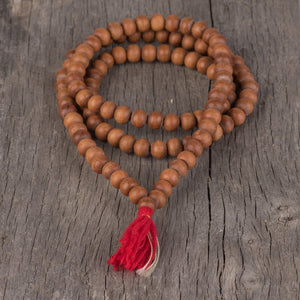 Sandalwood Neck Mala
£14.00

£14.00
Tax included.
---
---
This beautiful and wonderfully scented string of sandalwood prayer beads can be worn as a necklace, wrapped around the wrist as a bracelet, or it can be used for chanting one's mantra. The beads are joined closely together and are strung on a red or orange cord.
Sandalwood is a much-prized component of ritual malas, and it is specifically said to aid in relaxation and the reduction of excessive thoughts and nervous energy. Malas are symbols of the never-ending cycle of eternity and are beloved of many deities. Sandalwood is especially sacred to Shiva and to Ganesha, the Lord of Success and the remover of obstacles. Malas are often worn for purification, for protection, and for uplifting the mind, body, and spirit.
"Complete freedom from the bondage of mind and ego will create a flow of love within. People are bound by the past and the future; that is why it so difficult to find true love in the world. In order to really be able to love, both the past and the future must dissolve and disappear" - Amma.
108 8mm Beads