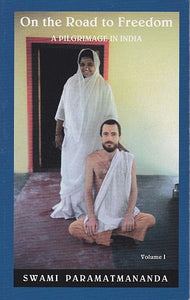 On the Road to Freedom, vol 1 - A Pilgrimage in India
£5.00

£5.00
Tax included.
---
---
In this rare and unusual book, one of Amma's senior-most swamis tells the story of his own search for spiritual knowledge and self-realisation. Swami Paramatmananda's autobiography is an amazing journey into India and its unique spiritual culture. Filled with wonderful stories, advice and anecdotes about the spiritual path, this is a little bit like a travel book for the soul.
As we travel with Swami, we meet some of India's greatest contemporary masters, including Amma during the very early years, Nisargadatta Maharaj and disciples of Ramana Maharshi. We also travel the Himalayas, the Ganges, visit some of India's most sacred places and attend ancient and extraordinary rituals. A definite spiritual classic.
Swami Paramatmananda Puri is a senior disciple of the great woman saint of Kerala, India, Amma. He came to settle in her ashram in 1980 after having spent 12 years in Ramana Maharshi's ashram in Tiruvannamalai. Born in America and familiar with the analytical Western mind, yet having fully lived and imbibed Eastern spiritual truths, he is able to present those truths in a manner which is readily understood by everyone.