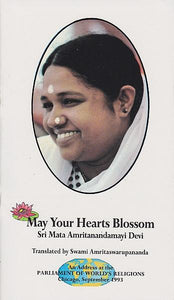 May your hearts blossom
£3.00

£3.00
Tax included.
---
---
"When Love overflows and is expressed through every word and deed, we call it Compassion. That is the goal of religion. When someone is full of Love and Compassion, he cannot draw a line between two countries, two faiths or two religions. He has no ego. He simply forgives and forgets. Compassion is Love expressed in all its fullness."
These words were spoken by Amma at the 1993 Parliament of the World's Religions held in Chicago and this book contains the complete and uncut address that she gave at this prestigious event. That year Amma was elected as one of the three presidents to represent the Hindu faith and she spoke to a gathering of thousands on the great need for love and compassion in today's world.
Swami Amritaswarupananda says this of her speech: "As Amma, the very embodiment of Universal Love and Compassion spoke, a deep peace seemed to permeate the atmosphere. Her speech was intellectually convincing and at the same time it had a tremendous healing power, a great purifying effect. When the address was over, hearts overflowed as people spontaneously rushed towards Amma to receive her darshan. It was a great and unforgettable occasion."