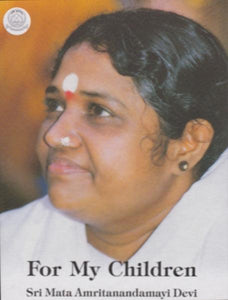 For my Children
£5.00

£5.00
Tax included.
---
---
From ancient times to the present day an unbroken succession of god-realized souls have taken birth to lead seekers of Truth to their goal. Mata Amritanandamayi, the Mother of Immortal Bliss, or Amma as she is called, is an ideal example of such a teacher and an embodiment of the Divine Mother herself.
This book contains selections from her spiritual teachings and answers to frequently asked questions from seekers on topics such as Mahatmas and Avatars, Meditation, Mantras, Food, Celibacy, Love, Anger and the Nature of a Guru. Her counsels are universal and applicable to our daily lives whether we are serious spiritual aspirants, householders or skeptics.
Also includes a short biographical sketch of Amma's life.