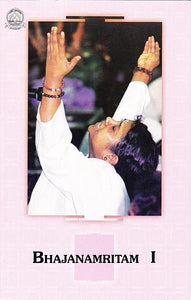 Bhajanamritam, Vol. 1 - Devotional songs of Mata Amritanandamayi
£5.00

£5.00
Tax included.
---
---
The first collection of Amma's songs, transliterated and translated.
The perfect book to begin the practice of devotional singing. Designed to make following the songs easy even for those who may not be familiar with Indian languages, these songbooks conveniently translate and transliterate the songs Amma sings during bhajans. There are songs to Amma, Krishna, Rama and Sita, Shyam and Radhe, Siva, Brahma, Vishnu, Lakshmi, Kali, and others. The book also includes two very important chants, the Sri Lalita Sahasranama Strotram followed by the Thousand Names of the Divine Mother, the sacred and ancient archana chanted in Amma's ashrams every morning. Songs are in Malayalam, Hindi, Sanskrit, Tamil and English, and they correspond to volumes 1-18 of the Amritanjali tape collection. A guide to pronunciation is also included.
Bhajans are a traditional Hindu art form and spiritual practice where we sing to express our love for God- they are also a powerful way to connect with God's divine energy and to gain concentration. They are a part of most Hindu spiritual traditions, but for Amma they are one of the cornerstones of the spiritual path.
Darling children, to gain concentration in this spiritual dark age (Kali Yuga), bhajan is better than meditation. By loud singing other distracting sounds will be overcome and concentration will be achieved. Bhajan, concentration meditation...this is the progression. Children, constant remembrance of God is meditation. -- Amma