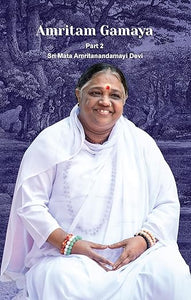 Amritam Gamaya Part 2
£9.00

£9.00
Tax included.
---
---
What is the foremost purpose of life? How ought we to lead our lives? What are the things we must pay attention to daily? What practices ought we to follow every day? How are we to observe festive occasions? How are we to conduct ourselves with our colleagues? What ought to be our attitude to other beings in nature? What principles and practices do nature conservation and environmental cleanliness entail?
Amma addresses these as well as other contemporary and timeless issues in this book, the second volume of Amritam Gamaya. Her precepts are backed by practice and personal experience; hence their undeniable authority and ability to inspire others and awaken their hearts. May these precious pearls of wisdom enrich your life and help to elevate you spiritually.
Published By The Disciples Of Mata Amritanandamayi Devi, Affectionately Known As Mother, Or Amma The Hugging Saint.