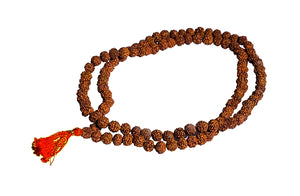 Rudraksha Mala Medium Bead 8mm
£45.00

£45.00
Tax included.
---
---
"Be steadfast in your practice. Practice regularly. When the awareness grows, we will merge into that reality, that happiness within us." –Amma
Our Rudran japa mala features 108 auspicious, natural Panchmukhi (Five-Faced) 8 mm Rudraksha beads on a hand-knotted cord, with a cotton saffron-colored tassel, wrapped in metallic thread. 'Rudraksha' has its origin in the Sanskrit words, 'Rudra' and 'aksha'. Both Rudra and 'Rudran' are additional names for Lord Shiva, and aksha means 'teardrop'. Mythological tales say Rudraksha beads were born out of Lord Shiva's teardrops of compassion for humanity. 
Rudraksha beads can help one in attaining tranquility, peace of mind, focus and concentration. Five-Faced Rudraksha beads are known to promote peace, good health and mental strength. They are also considered to protect against negative energies and help wearers align with their life purpose.
Mala prayer bead necklaces have been used for thousands of years to help people focus on meditation, mantra chanting and prayer, bringing more inner peace and harmony into their lives and the world. When not being used for meditation, this neck mala can be stored in one of our mala prayer pouches (sold separately). It is considered beneficial to have at least one mala designated exclusively for chanting and prayer, while others can be worn around the neck, or wrapped round the wrist, for their energy healing benefits and praying ease.
108-bead mala

Genuine Panchmukhi/Five-Faced Rudraksha beads (8 mm) 

Hand-knotted design

Cotton, saffron-colored tassel, with metallic thread

Length is approximately 38"

 

(

plus 2" tassel)

Hypoallergenic

Handcrafted in India
CARE:  Rudraksha beads will gradually darken as they interact with natural skin oils and may also require periodic cleaning. To clean Rudraksha beads, gently scrub with an extra-soft toothbrush, while taking care not to brush or wet the mala thread and tassels. Then allow to dry. At any time, if the beads whiten slightly or become too dry,
you can add a few drops of any natural oil, using your hands or a toothbrush. The oil will help freshen the look of the beads, and protect them from drying out.