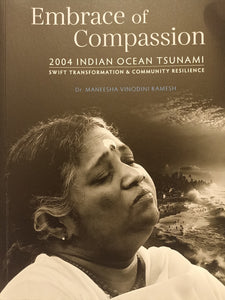 Embrace of Compassion (Photobook)
£11.00

£11.00
Tax included.
---
---
Embrace of Compassion.2004 Indian Ocean Tsunami. Swift Transformation & Community Resilience
Through the pages of this book, we embark on a transformative journey alongside Amma - a tribute to the strenght o the human spirit and the enduring quest for harmony between Man and Nature.
The author focuses on how Amma commandeered the comprehensive rescue and rehabilitation efforts for the organization, the Mata Amritanandamayi Math (MAM), leading the community swiftly back to the path of resilience. This book serves as an invaluable handbook for both disaster management practicioners and civilians alike, emphasizing the importance of compassion-driven approaches pioneered by Amma in the field of disaster management. It acts as a comprehensive guide, aiding practicionerrs and civilians in building more resilient communities that are equipped to confront the uncertainties of nature that may drastically impact their lives.
May Amma's teachings continue to inspire and guide us in building a more resilient and compassionate world for generations to come.