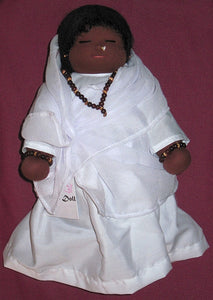 Amma Doll Medium
£108.00

£108.00
Tax included.
---
---
These dolls were personally blessed by Amma for sale in The Amma Shop.
Her white clothes, the petticoat, dress and half-sari are all prasad (made from materials used or blessed by Amma). Her bracelets and neck mala are made from red sandalwood beads.
All our dolls are handmade with love and prayers.
Choose your favourite Amma doll by looking at the number in the photos and selecting that same number above. Each doll is unique and special (there is only one doll for each number). We will send you the same doll you see in the photo.
Height:
23cm (approx 9 inches) tall
Origin: Handcrafted in India