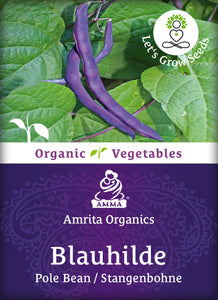 Pole Bean, organic
£3.50

£3.50
Tax included.
---
---
Seeds for Pole Beans (Phaseolus vulgaris)

The seeds for pole beans help in growing climbing pole beans with attractive, purple pods that turn green when cooked. The seeds result in vigorous vines that produce delicious beans in abundance.
Instructions
Seed directly two weeks after the last spring frost. Sow 3-5 cm deep. Provide a support structure at least 1.8 m tall. To make a simple teepee: Use 3-4 bamboo canes or other poles. Space 70 cm apart and push them into the ground. Tie at the top. Plant three beans for each pole. The soil should be fertile and well-drained. Plant under full sun.
Portion
2g ( 75-100 plants)